Thanks to all of you at SafariBookings we (Save the Rhino International) received an incredible $10,000 as winners of the Rhino Donation Campaign last year, supporting our efforts to save the species and support rangers in the field. Now, a few months after receiving this wonderful donation, we wanted to update you on the impact of your support.

Meet Denzel, Rhino Tracker in Namibia
"I believe that my children would also want to experience the wonder of the desert-adapted black rhino when they grow up, and I want my baby to have the chance to see the rhino roam freely in its natural environment."
"For me the motivation to work with rhino came as a result of my elders who awakened the pride of protecting this very unique species, and my uncle, who was also a dedicated rhino tracker."
Denzel Tjiraso is a Rhino Tracker. For the past 11 years, he's worked with the team at Save the Rhino Trust in Namibia, one of the field programmes we support, protecting and monitoring the country's unique population of the desert-adapted black rhino.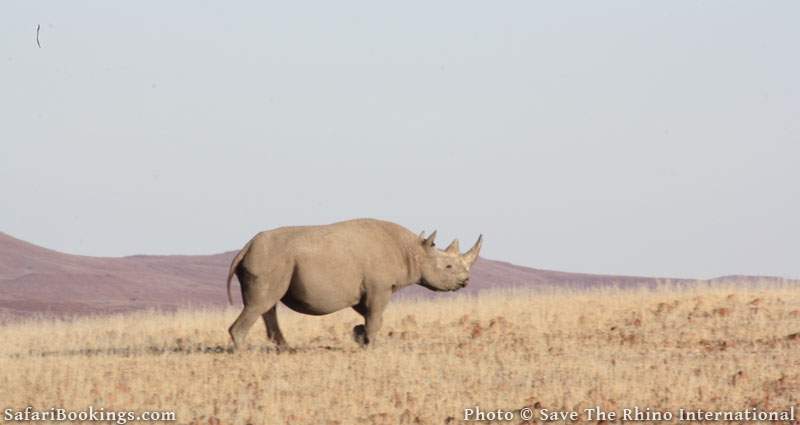 Protecting rangers, saving rhinos
At Save The Rhino International, we work to support rangers like Denzel every day. We know that their passion and dedication for protecting rhinos extends beyond their job description. Rangers work day and night, often enduring challenging and dangerous conditions to reduce poaching and protect Africa's black and white rhinos. Without their commitment, poaching numbers could be far worse.
In the last decade, more than 1,000 rangers worldwide have lost their lives in the line of duty. What's more shocking is that they often didn't even have the basic kit they need. That is where we can help. By funding everything from good-quality shoes, socks and backpacks, to upgrading accommodation and facilities, we help rangers stay safe and protect wildlife.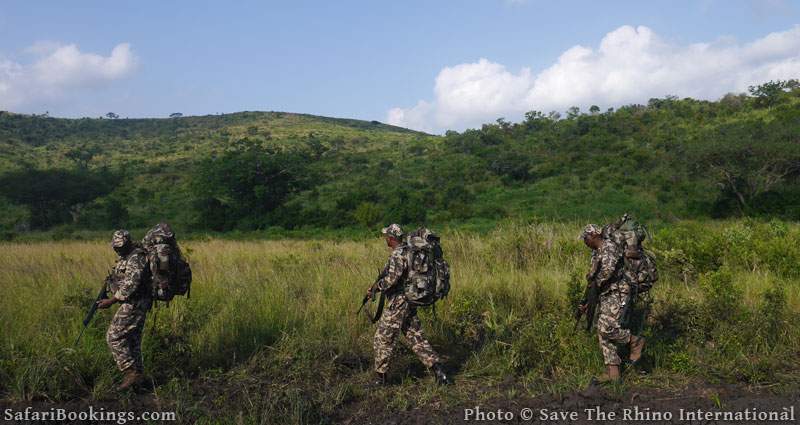 In the last year, we raised more than £2m to support 25 field programmes in 12 countries across Africa and Asia. Our top priority is saving all five rhino species from their key threats: poaching and habitat loss. We focus on protecting Critically Endangered rhinos living in some of the most important ecosystems on our planet, and prioritise populations with good genetic diversity that have the best chance of continuing to grow in the future.
At the heart of this work is supporting the heroes on the frontline – rangers. The majority of our grants are in support of rhino monitoring and protection programmes: ensuring that ranger teams have the kit and equipment needed to do their jobs, and good quality accommodation to come back to, with solar lightning and hot water, helping to make long and dangerous deployments a little more comfortable.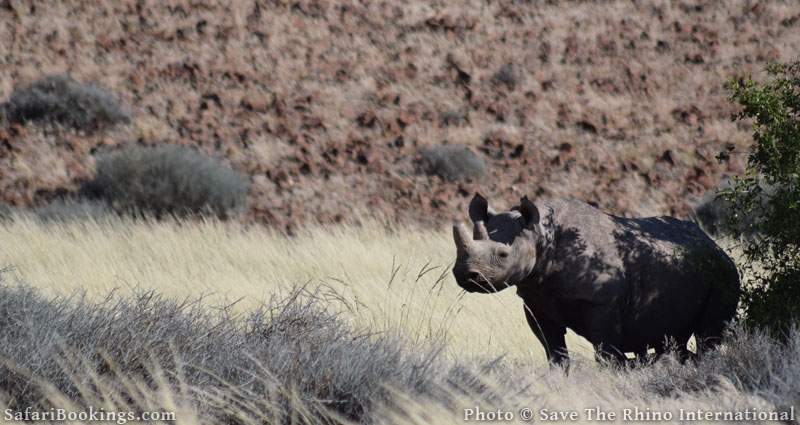 Poaching numbers down in Namibia thanks to dedicated ranger teams
Over in Namibia, we've been supporting Denzel and his team of rangers within the Kunene Region in the Northwest. The area features a remarkable selection of plant and wildlife species and is a home to the last truly wild population of any rhino species on the planet; the largest to persist outside national parks. The country itself hosts 34% of the world's remaining black rhino population and 90% of the southwestern subspecies. As a result, Namibia's success in protecting the species from extinction is critical.
Save the Rhino Trust's rangers spend 21 days at a time out in the bush monitoring the precious black rhinos, performing daily patrols with Namibian law enforcement officers. When a rhino is spotted, the trackers photograph it, record its location and note down the name of the rhino, its age, condition and whether it has a calf.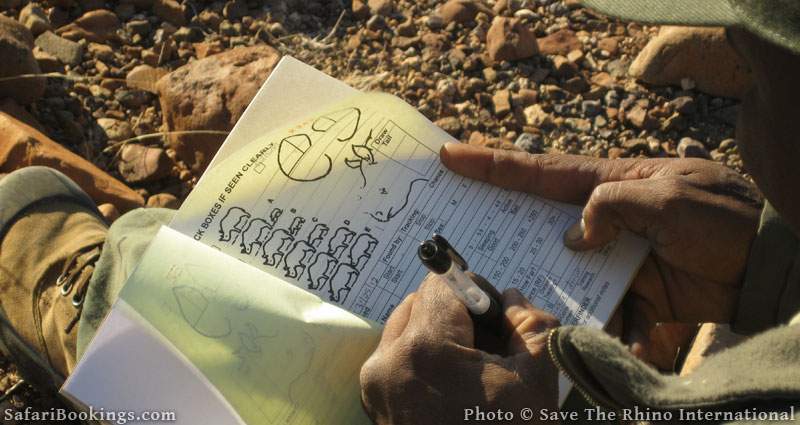 "We usually go out into the field in groups of three, and split up as soon as we find fresh rhino tracks, and from here we cover the rugged terrain by foot. In one day we can journey anything from 40 to 180 kilometres." Denzel Tjiraso, Rhino Tracker at Save the Rhino Trust in Namibia.
We are delighted that throughout the region protected by Save the Rhino Trust and rangers like Denzel, poaching has declined more than 80% since 2014 – thanks to a lot of hard work and support improving their rhino monitoring. Save the Rhino Trust has recorded the fewest number of poaching incidents since 2012: a fantastic achievement and a credit to the dedicated team!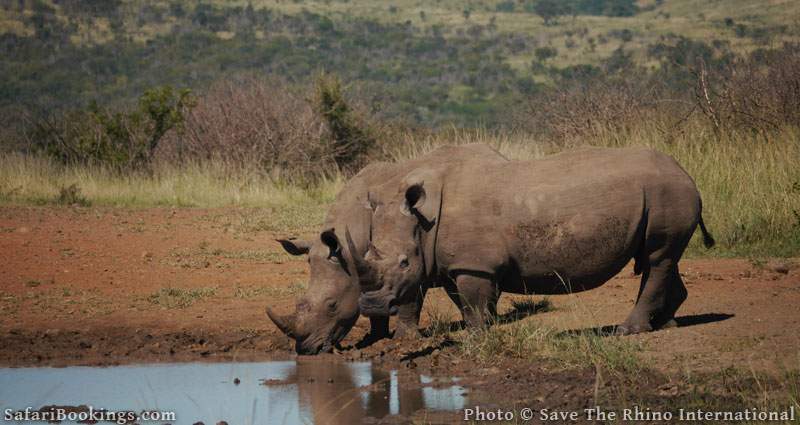 Rangers at Hluhluwe-iMfolozi Park are 'upping their game'
One of the field programmes we've also been supporting over the years is located in Hluhluwe-iMfolozi Park, in Kwa-Zulu Natal province in South Africa. Kwa-Zulu Natal has the greatest density of rhino in South Africa, and Hluhluwe-iMfolozi Park is home to an incredibly important population of both white and black rhino. The Park is also renowned worldwide for being the historical home of the Southern white rhino, following the successful 'Operation Rhino' efforts in the 1950s to bring back white rhino from the brink of extinction.
As elsewhere throughout Africa, Hluhluwe-iMfolozi Park's rhinos' biggest threat is from poaching for the international illegal trade in rhino horn. The poaching intensity has been extremely high: in 2017 alone, 1,028 rhinos were killed for their horns in South Africa. While poaching pressure remains intense in Kruger National Park, there has been a shift towards other provinces with KwaZulu-Natal, and Hluhluwe-iMfolozi Park in particular, suffering from the changing pattern of poaching.
With the increasing intensity of poaching in the Park, field rangers have been 'upping their game'; increasing regular foot and vehicle patrols, as well as using more horse-back patrols and aerial-assisted surveillance. Tracking dogs have also been helping to detect and deter suspected poachers. But of course, this has all put extensive pressure on the Park's annual budget.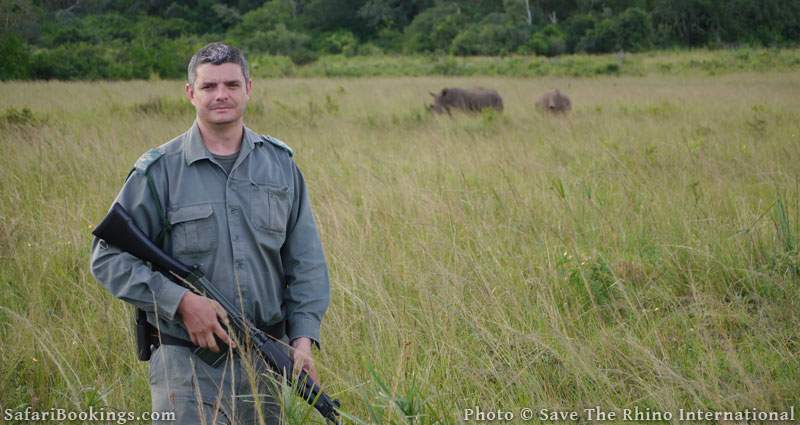 "With the support received from Save the Rhino International and its donors, we can effectively equip staff with the correct tactical gear, make sure they have comfortable accommodation to come home to, have good warm clothing for the long evenings and other such requirements.
With high staff morale, we stand a much better chance of succeeding. Thank you to all those who contribute and support our staff". Dirk Swart, Section Ranger, Hluhluwe-iMfolozi Park
Thank you all from the team at Save the Rhino!
We're delighted to be working with SafariBookings and really appreciate your wonderful support for rhino conservation. Thanks to the fantastic donation from last year's campaign, we've been able to continue our support for field programmes.
"The successes we have seen from the field programmes we support, as well as the ongoing support of our donors, friends, and partners, even in the face of the enormous challenges, give us hope that all five rhino species will, eventually, thrive in the wild."
Cathy Dean, CEO, Save the Rhino International