"In ideal conditions the dogs can trace the odor of a person over about ten kilometres and up to a week after the person passed by. This tracking ability is making the bloodhounds an essential tool in the fight against poaching in Virunga National Park. Let me give you a demonstration of what they're capable of." With that Shamavu Christian, the head of the Congohounds project at Virunga National Park in the Democratic Republic of Congo (DR Congo or DRC), gave one of his team of bloodhounds a quick sniff of a hat that had the odor of a person on it. Instantly, the dog put his nose to the ground and sniffed his way hundreds of metres through tangled bush and forest to where one of the Virunga National Park rangers – and the owner of the hat – was hiding.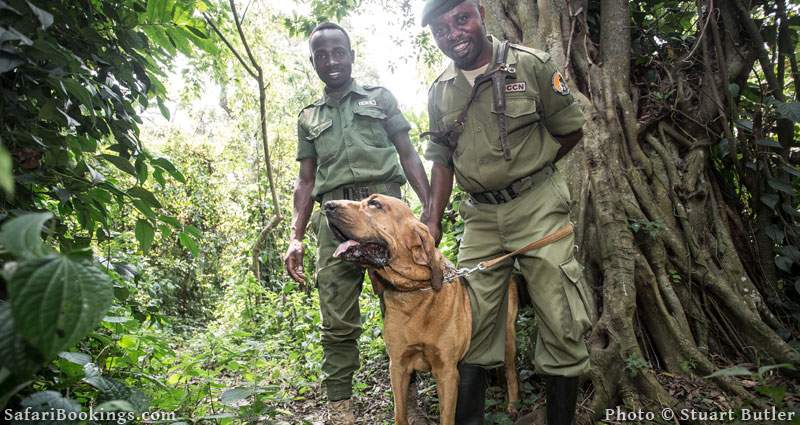 Why Is Virunga National Park Important?
Established in 1925, Virunga National Park is Africa's oldest national park and one of its most biologically diverse and scenically splendid. The park sprawls along the borders of Congo, Uganda and Rwanda and takes in a wide contrast of habitats. Think golden grassed savannah plains through which wade elephant and lion; lakes that are so large, they can alter the local weather patterns; snow-sprinkled and glacier coated mountain ranges with unique flora and fauna; volcanic peaks with permanent pools of bubbling lava and, most famously, cool and misty mountain forests where mountain gorillas and chimpanzees flit through the shadows. By all rights, Virunga National Park should be one of Africa's most popular, and secure, national parks, but sadly decades of insecurity and instability throughout the Congo has made Virunga one of Africa's most threatened national parks.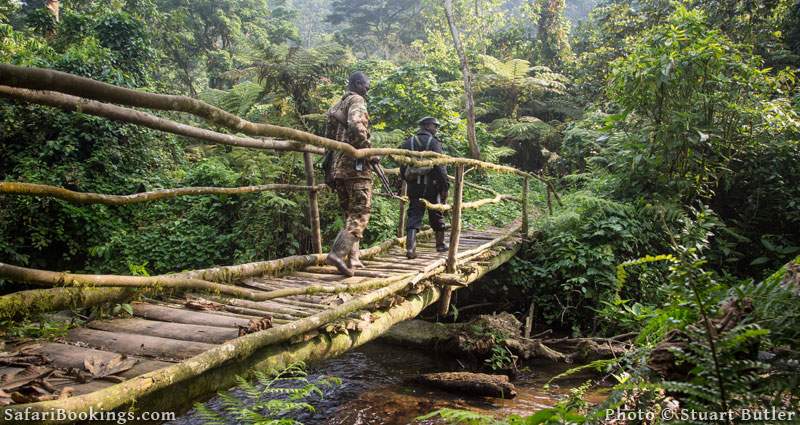 What is threatening Virunga National Park?
The threats to the park are numerous and as diverse as its biological and geographical make-up. Numerous rebel groups and foreign armies have swept backwards and forwards across this vast national park in search of political power as well as the enormous mineral wealth (which includes gold, cobalt, timber and oil) hidden in and on the soils of Virunga. The men with guns have created a huge refugee crisis, there has been overspill from current and past conflicts in neighbouring nations, and the Congo's infrastructure has largely whittled away to nothing. In almost every respect the Congo has become a by-word for a failed state. This in turn has led to a serious problem with poaching in Virunga National Park.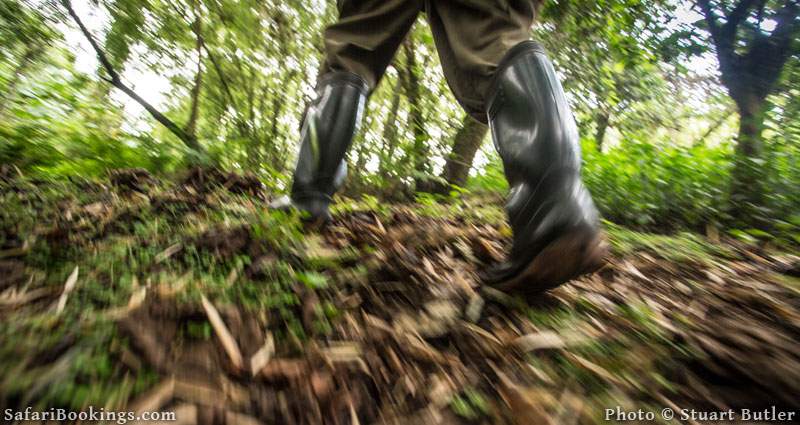 Against such a backdrop, it's something of a miracle that Virunga National Park even exists at all. Yet, the management and staff of Virunga are trying hard to do the right thing for Congolese people and the country's environment. But it's a task that has come at a terrible cost. Over 175 rangers and other park staff have been killed in the line of duty over the past twenty years (eight have so far been killed this year), and at any one time varying amounts of the park are largely outside of the control of park and government authorities. As well as mineral extraction and the illegal charcoal trade, one of the other big threats to the future of the park is poaching. This is done both for the bushmeat trade and the ivory trade. And this is where the Congohounds project comes into the picture.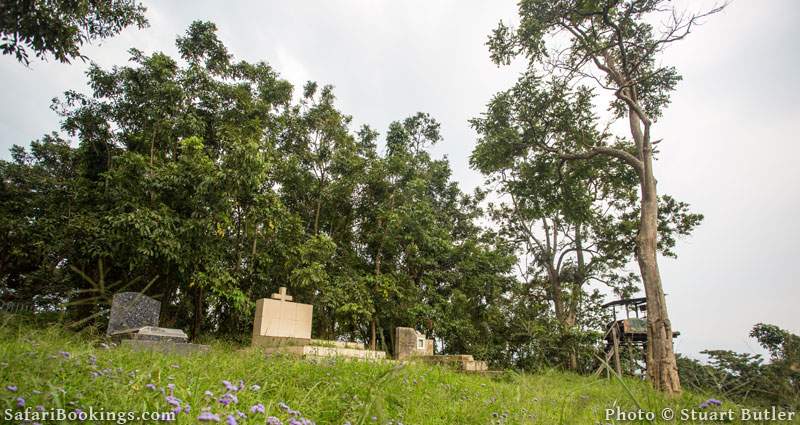 What is the Congohounds Project?
It all started when Virunga's chief warden, Dr Emmanuel de Merode, heard about the success of bloodhound man-trailing in other parts of the world and set about finding out if such a project might work in the humid forests of the Congo. He was put in touch with German dog trainer, Marlene Zähner. It was Marlene who established the first man-trailing bloodhound programs in Europe, and over the years she's helped train numerous European police and search-and-rescue teams to use bloodhounds. The Congo, though, is a very different place to Europe, and when she first arrived in the Congo, even Marlene was sceptical about how effective the dogs might turn out to be in battling poaching in Virunga National Park. As it turned out, any worries were misplaced, and the dogs quickly adapted to their new environment, tasks and handlers.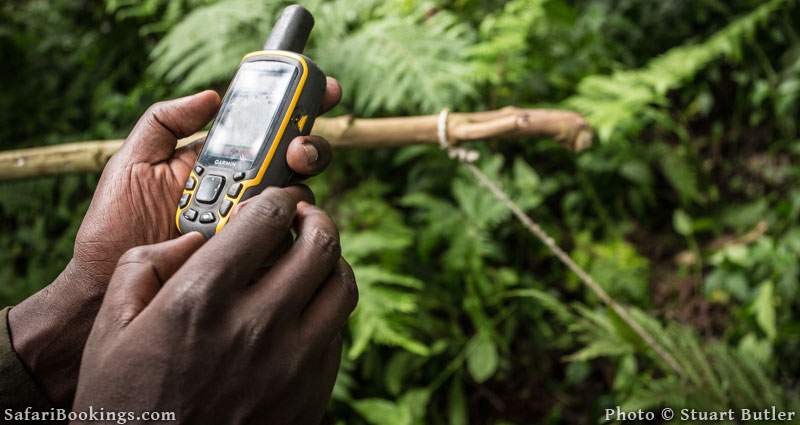 How Successful is the Congohounds Project?
With the ability to identify a single scent in five million, the Congo bloodhounds are now used to track down poachers, hidden ivory and weapons. And they've been remarkably successful at it.  Shamavu told me how, since starting to use the dogs, the Virunga National Park rangers have found more hidden contraband and captured more poachers than before. So effective are the dogs that even the sight of the dogs out on patrol seems to act as something of a deterrent with potential poachers now aware that hiding from a bloodhound is much harder than hiding from a Virunga National park ranger. Partially for this reason, the dogs are often taken to villages in and around the park where they give demonstrations of their tracking ability. Shamavu told me of how one time, when they were conducting a village demonstration, the dogs led the rangers straight to a house with ammunition and bombs hidden inside it.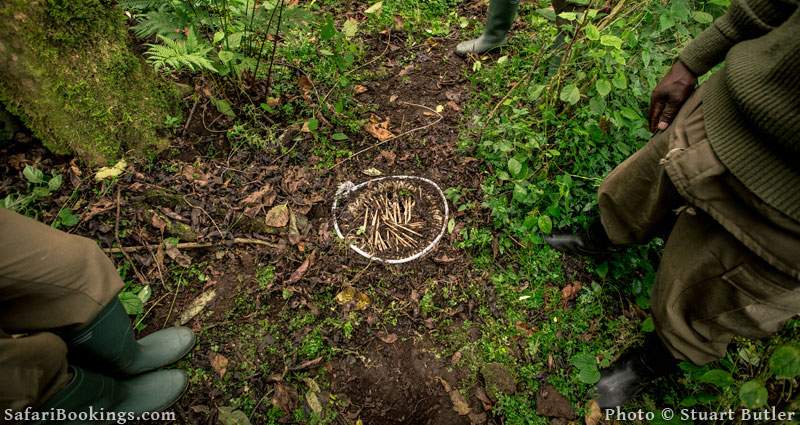 The Congohounds Project alone won't stop poaching in Virunga National Park – or the relatively free movement of heavily armed rebels – but with time, money, luck and the continued support of concerned local and international players, it's entirely possible that projects like this will help to secure Virunga, and perhaps one day it will finally take up its rightful position as one of Africa's best-known and loved national parks.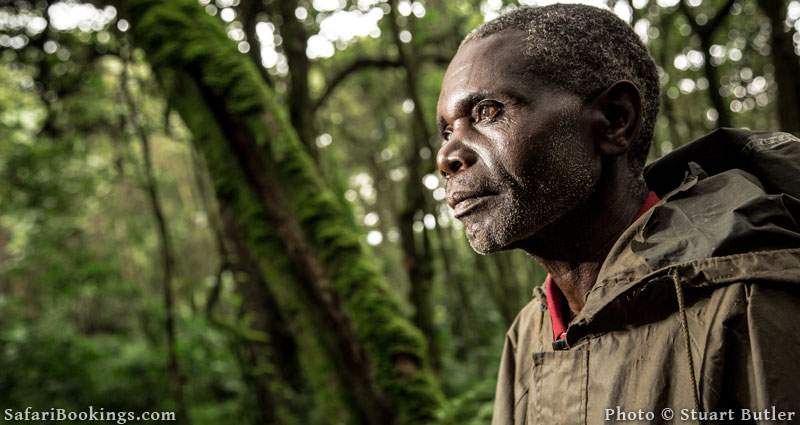 At the time of going to press the Virunga National Park had just been closed to tourism because of security concerns. If and when the park re-opens, the following company can get you there: Virunga Amani Tours and Kivu Travel