SafariBookings Launches Rhino Donation Campaign to Help in the Fight Against Rhino Poaching
Rhino poaching has been in crisis mode in South Africa and other African countries for decades but has escalated in recent years. Conservationists and national park authorities have been pushed to the brink in their efforts to protect these majestic creatures from becoming extinct.
At SafariBookings.com, the largest online marketplace for Safari holidays, we are acutely aware of this sense of urgency to save the rhino. We love Africa and, most especially, its wildlife. That's why we want to give back and support the efforts to safeguard black and white rhinos in Africa. But actions speak louder than words. So, we are launching a Rhino Donation Campaign to help save these beautiful animals.
In this video of the African Wildlife Foundation, Sir Richard Branson stands up against rhino poaching. He explains that the key ingredient of rhino horns: keratin, is also in your own nails!
The threat of Black and White Rhino going extinct in numbers
African Black Rhino
The black rhino is critically endangered and has been so for decades. Poaching has led to a dramatic decrease in their population – from 70,000 in 1970 to only around 2,000 black rhino in 1995. Tenacious efforts from conservationists have seen the population increase to about 5,500 animals today. Although these efforts are promising, it is by no means a number that guarantees the future survival of black rhino! Poachers have become considerably more active in the past 6 to 7 years. Fortunately, the same goes for many conservation organizations. They deserve our support!
Southern White Rhino
Conservation efforts have been more successful with the Southern white rhino. By the early 1900s, it was estimated that only between 50 and 100 still existed in the wild. Fortunately the population has now increased to around 20,000 white rhino. This has changed its endangered status to a 'near threatened' status. Conservation is still vital for its longevity.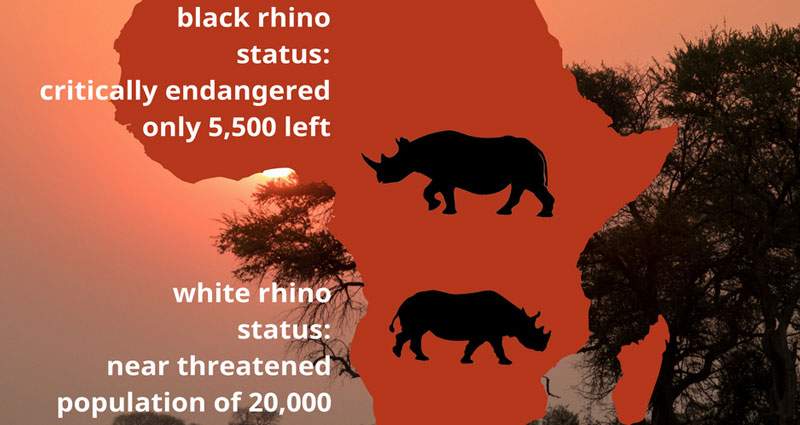 Join SafariBookings Rhino Donation Campaign! 
 Vote for your favorite rhino organization
To support the cause of rhino conservation, SafariBookings invited 3 reputable rhino protection organizations to pitch their projects. Their pitches outline who they are, the rhino projects they're working on, and why they deserve the reader's vote. All the pitches (and supporting materials) will be shared on our social media channels and featured in our blog. Ultimately, it's you – the readers following our social channels – who will choose the final winner.
Supporting the conservancies
The objective of the SafariBookings' Rhino Donation Campaign is to raise public awareness of the rhino crisis in Africa. Additionally, we aim to generate support for some of the most conscientious and effective African wildlife conservancies. Their task is not an easy one. And given the ruthlessness and determination of the poachers, conservationists and rangers in parks, face considerable danger in carrying out their mission to save and protect these creatures.
The winning organization (based on your votes) will receive $10,000 from SafariBookings. Because all conservancies participating are doing such a fine job, we will also donate $500 to each participating conservancy (non-winner).
Rhino Poaching – some sobering statistics
The 2016 poaching statistics from the South African Department for Environmental Affairs show that Rhino poaching is declining (by 10.3%). And Kruger National Park, which contains most of Africa's remaining rhino population, has been at the forefront of this anti-poaching effort. But the fact remains that 1,054 rhino were killed in that year alone. In the span of one decade, more than 7,245 rhino in Africa met an untimely death. And while the numbers are declining, in South Africa poaching gangs are infiltrating other African countries, such as Zimbabwe. The problem is spreading. Unfortunately, conservation programmes and resources are less abundant in such countries. There is so much work that still needs to be done.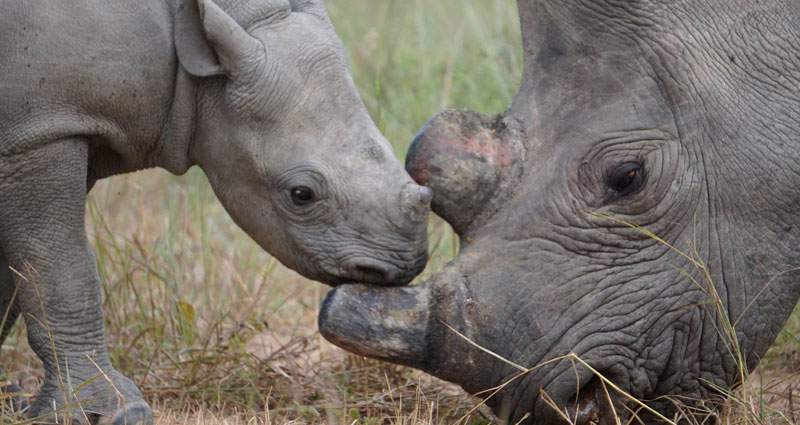 (Photo by Frontierofficial via Flickr.com)
Ready, set… vote!
African conservancies are doing an important and amazing job. That's why we've decided to launch our Rhino Donation Campaign. They need and deserve our support.
Campaign timeframe
On November 20th we will start sharing the campaign pitches presented by each of our fab 3 conservancies, via our SafariBookings Facebook page, Instagram account and via our blog. Voting will start on December 4th 2017, at noon (underneath a dedicated Facebook and Instagram post) where you can vote for organization A, B, or C. This post will be pinned to the top of SafariBookings Facebook account, and is easy to find on the Instagram account. Voting will last until noon, Monday, December 18th. Official rules apply.
Which of the 3 participating conservancies will receive your vote?