Black rhinos are classed as critically endangered, with only around 4600 left, while white rhinos number around 20,000. Both are in danger, persecuted mercilessly for their horns by organized criminal gangs. Yet, some places have become a haven for rhinos, including Botswana.
Guests staying at Sanctuary Chief's Camp on Chief's Island in Moremi Game Reserve can now spend a morning with rhino monitors deep in Botswana's bush learning first-hand about the work – and passion – that goes into protecting these quirky yet vulnerable creatures.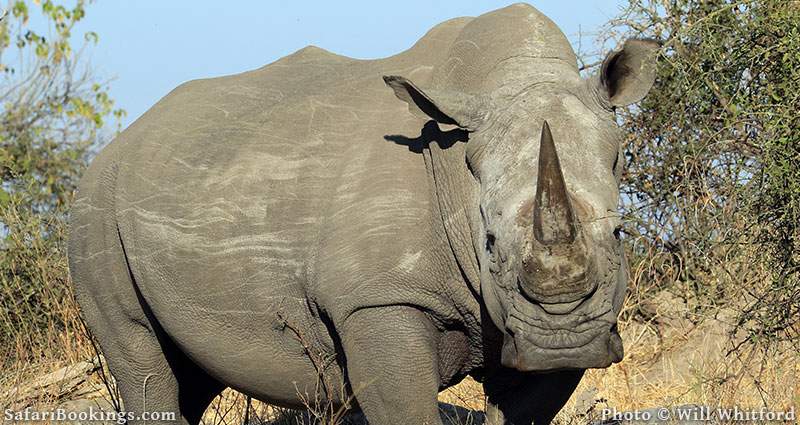 A guide I know once described them as 'two tons of brawn and a brain the size of an orange.' Another called them 'gloriously grumpy.' But I find them extraordinarily endearing, with their prehistoric appearance, hide like armor-plating and their horns, some over a meter long, protruding from their snouts.
Those horns are literally worth more than their weight in gold thanks to a ridiculous belief that they can cure ailments including cancer in traditional Chinese medicine. They've also become a hideous status symbols for Asia's affluent classes.
The work of Rhino Conservation Botswana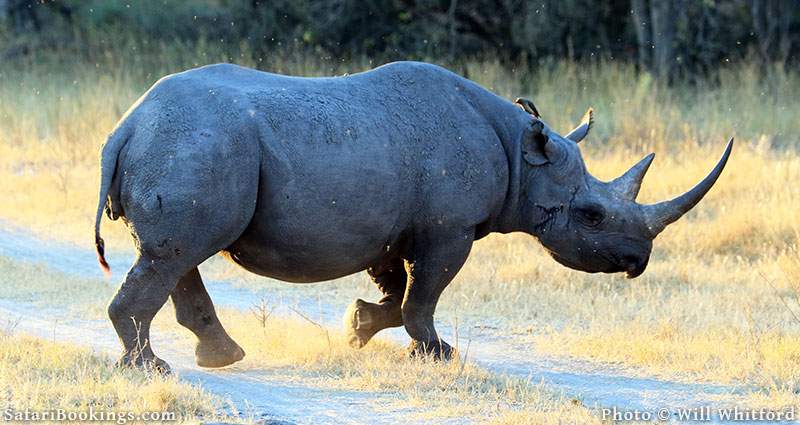 At 6 AM, over breakfast, our rhino monitor Michael explains all about the Rhino Reintroduction Project and his role in protecting these majestic mammals. Since 2002, a local charity called Rhino Conservation Botswana (RCB) has partnered with the government and tourism operators to reintroduce black and white rhinos to this relatively safe land: it's surrounded by wetlands where resident crocs and hippos discourage poachers.
Abercrombie & Kent Philanthropy joined the project in 2015, and the US$200 fee for accompanying the monitors supports RCB. Every day, Michael goes out to find rhinos, reports back to researchers and helps to inform their assessments for future translocations.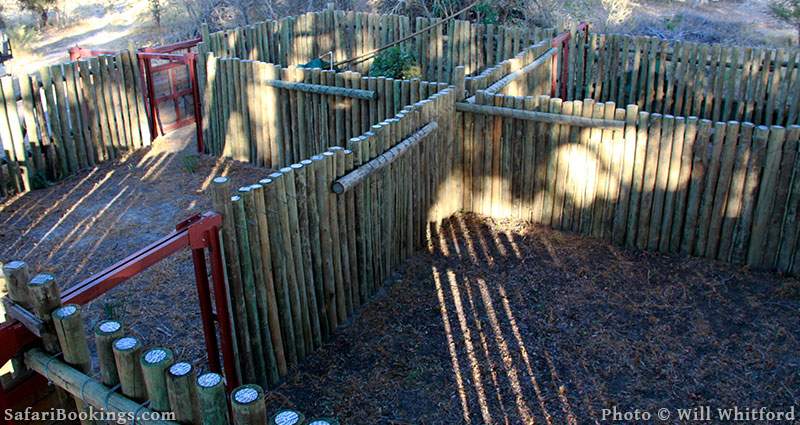 The exact number of rhinos on Chief's Island (previously locally extinct) remains a closely guarded secret. They mostly come from South Africa where a staggering number, around three a day, are being killed.
First, we go to see the boma, an empty, sturdy enclosure made of logs, which is home to the rhinos when they first arrive. When they're darted for capture, they have small triangular notches cut in their ears, each one a different pattern which is documented on a chart along with their name, age and gender. This helps rangers and monitors to identify them.
Searching for spoor and scat
Driving around in the Land Cruiser, we look out for spoor and scat (prints and poo) and come across a huge midden (toilet). Michael describes it as 'Facebook for rhinos' because it reveals so much about its perpetrator. Other rhinos can tell from the scent how healthy and strong it is and whether a female is ready to mate. And rangers can tell whether it's from a black or white rhino, male or female.
We learn how to tell the difference – black rhinos' dung will have sticks in it; white rhinos eat only grass. The males return to the same spot, marking their territory with dung and building up a huge pile, up to a couple of meters in diameter and kicking it around to spread their scent. Females come to the same midden, leaving their dung around the edge of the male's. Using our newly gained knowledge, we deduce that this pile has been left by a male white rhino.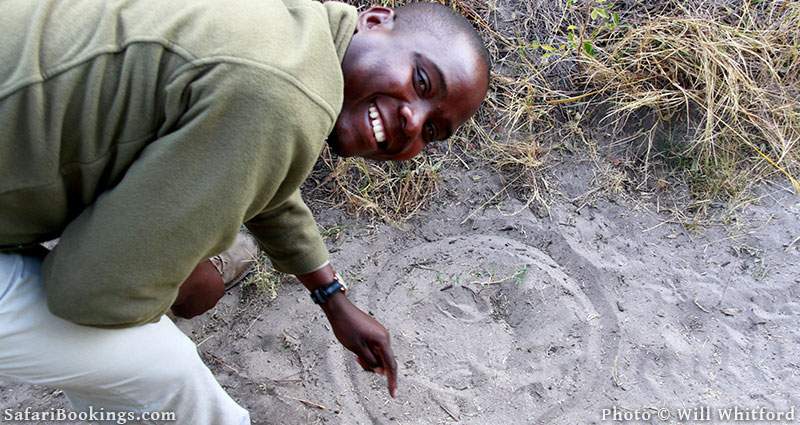 Michael tells me to dip my hand into it (yes, really). Luckily, it's very grassy and not nasty at all. Its temperature tells us how long ago our rhino deposited it. It's still mildly warm, so he estimates it was done about an hour ago and we then follow tracks of individual footprints the size of dinner plates on sandy terrain.
We're told they belong to Serjeant – this is his territory. Michael describes him as 'very cheeky.' He's jealous and aggressive when he's with females apparently and has even attacked vehicles. I'm rather relieved we don't find him.
Now you see them, now you don't…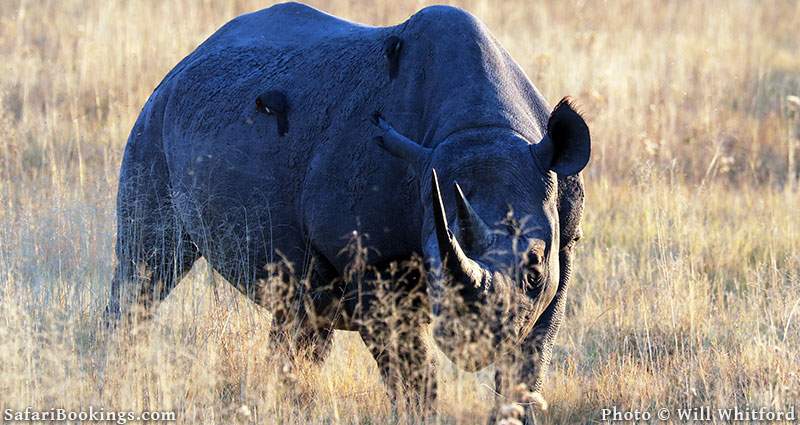 Instead, we find a black rhino waddling gracelessly across the plain. She looks unusually huge – black rhinos are generally smaller than white ones. We take photos of her ears and zoom in on the camera screen to check out those all-important notches, comparing them with Michael's chart. We identify her as Mary. Michael reveals that she's heavily pregnant and, unusually for black rhinos, is extremely calm and placid.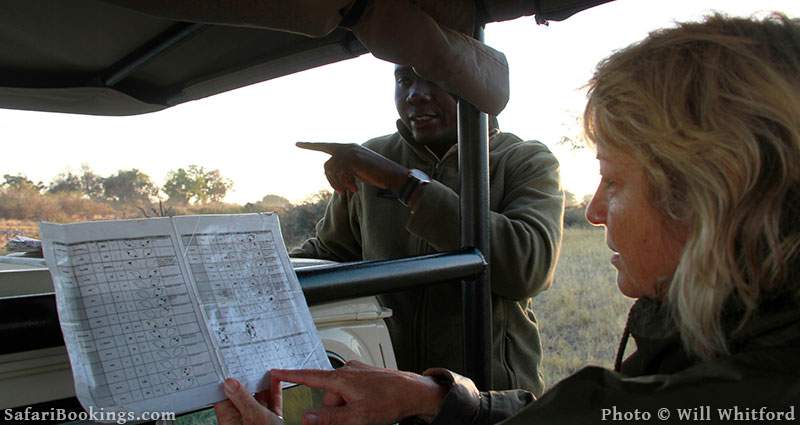 He gives us a data sheet to record our sighting. It's nothing like the stuffy scientific data sheets you normally see in research projects with long names and sometimes incomprehensible jargon. These have simple sketches of trees and bushes to signify habitats, various weather conditions, and drawings of rhino shapes and actions – even a child could complete it, which is handy since there's no age limit for guests taking part in this project.
Then we hear over the radio that about four rhinos have been seen in dense shrub some distance away. We drive like mad to get to them, bouncing along over scrub and wild sage, but when we reach the spot, they've vanished. This isn't unusual, Michael tells us: he normally sees rhinos around four days a week.
But the job he does is vital if rhinos are to survive the scourge of poaching. And visitors being a part of it raises awareness as well as funds. It's fascinating to get first-hand insight into the lives of these vulnerable pachyderms and into the work of conservationists working so hard to protect them.