"I remember that I was so angry when the government made us leave the forest. Us Batwa had lived there for generations, and the forest provided everything that we needed. There was clean water from the rivers, there were natural medicines from the plants and plenty to eat. I used to hunt duiker and other small forest antelope, but we never, ever touched the gorillas.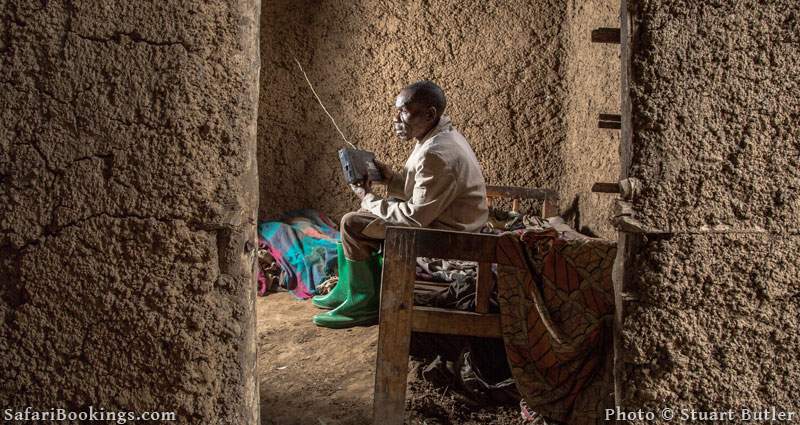 No Batwa person would do that. One day, though, we were told we had to leave the Virunga forests so that foreigners could come and look at the gorillas." When Kanyetangi made this startling revelation about a forced removal, he sat on the wooden frame of his bed, in a mud-walled house on the edge of Rwanda's Volcanoes National Park. Protecting a part of the inspiring Virunga mountains, Volcanoes National Park is the Rwandan home of the mountain gorillas as well as the center piece for conservation in Rwanda.
What are the Problems Faced by the Batwa?
The Batwa (known pejoratively as pygmies on account of their shorter than average height) are generally considered the original inhabitants of the Virunga area, and they've lived highly sustainable lifestyles as nomadic hunter-gatherers in these forests for well over a thousand years. Throughout the Virunga region (Rwanda, Uganda and DR Congo), many Batwa people have been forcibly (sometimes violently) removed from the forests after these were turned into national parks to protect the famous mountain gorillas.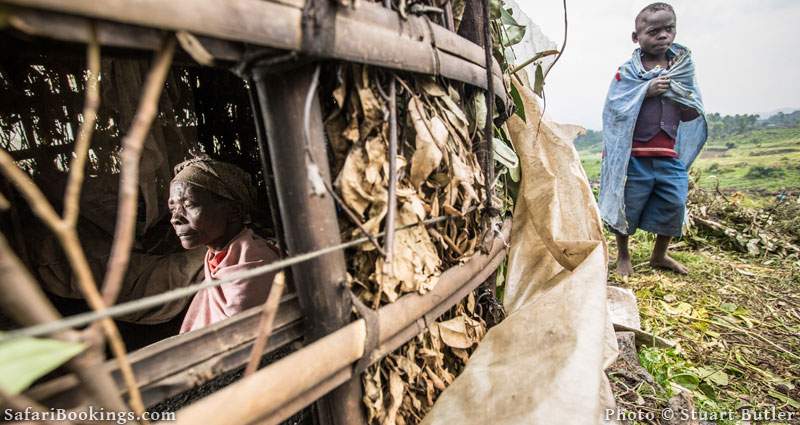 In most cases the Batwa were either given token compensation pay outs or they received nothing at all. They've often been left marginalised in society, and the older generations in particular have struggled to cope with the demands of a sedentary lifestyle. Alcohol and drug abuse has been a serious issue across all age groups. Today, though, the situation for the Batwa is slowly improving, and a number of Rwandan non-governmental organisations and safari tourism groups are working to improve the situation for the Batwa.
How does Partnerships for Conservation Help the Batwa
One of these NGOs in Rwanda is the small but energetic Partnerships for Conservation. Based out of the Rwandan town of Musanze, Partnerships for Conservation works to provide the Batwa with new skill sets and business opportunities, but in a way that will still be advantageous for conservation in Rwanda. After talking to Kanyetangi, I was taken to an adult literacy class in a nearby village. A group of Batwa (primarily women) were huddled in the shade of a building as a teacher scribbled notes in Kirwanda and English on a blackboard. Until recently, few Batwa had ever seen the need or had been given the opportunity to pursue a school education. Therefore, many Batwa adults are illiterate. Today, though, most Batwa are keen to change this trend, and the adult literacy classes offered by Partnerships for Conservation (and other NGOs in Rwanda) are heavily oversubscribed. Everyone partaking in the classes had a different reason for signing up.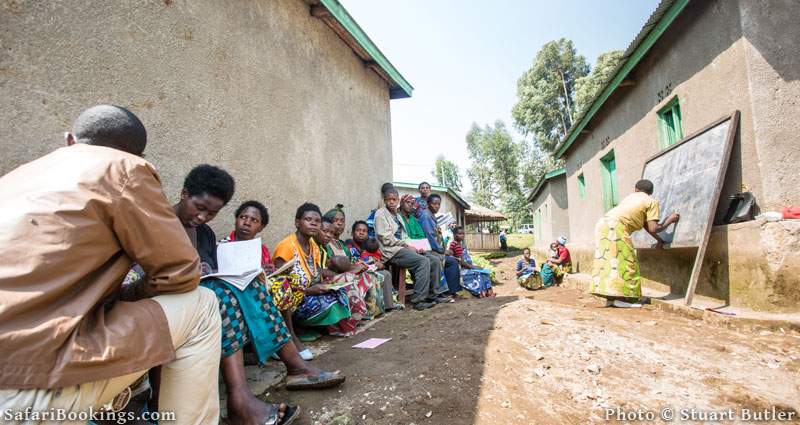 One lady, Uwamahoro Pelagie, told me how for her, becoming literate would allow her to read newspapers and find out what was going on in Rwanda and the rest of the world. Another lady thought that being able to read and write would allow her to complete government forms on her own, and this would make getting things done easier.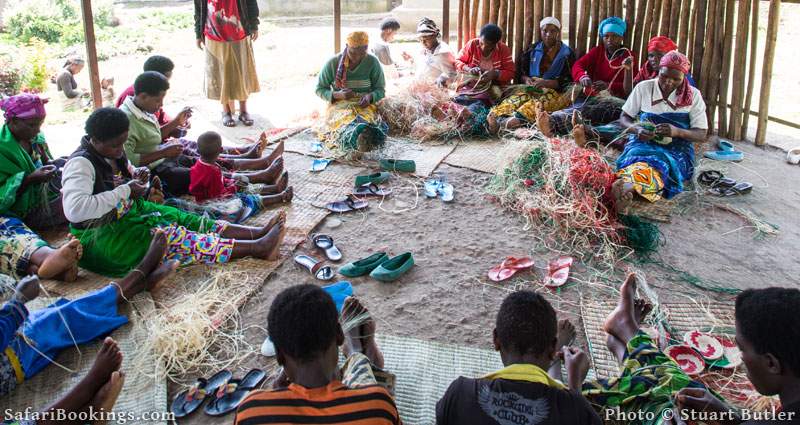 As well as the adult literacy classes, Partnerships for Conservation also runs hygiene projects, basket weaving groups, and the one that really intrigued me, the small livestock project. Ntizihaboue Beatrice unhinged the door of a small box-like wood-and-mud house, which was raised off the ground on wooden stilts, and out of the gloom popped a small white furry nose and some very large ears.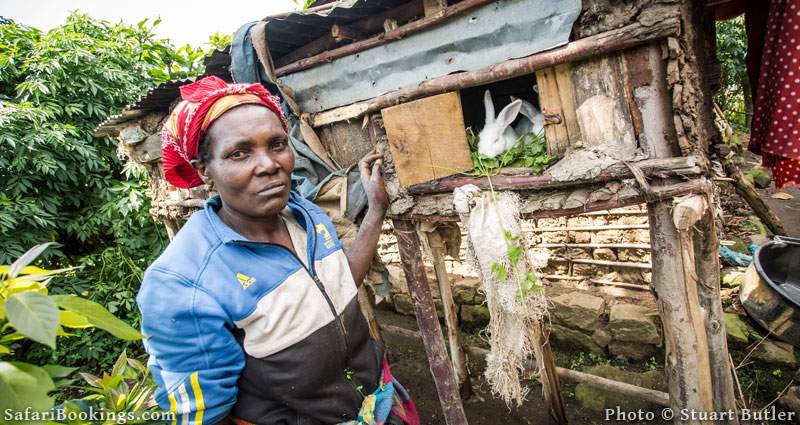 Rabbits didn't seem like the most obvious money-making farming venture, but Ntizihaboue explained to me how in a country as densely populated and desperately short of farmland as Rwanda, rabbits were actually the perfect livestock. They take up very little space, eat comparatively little, mature quickly, breed like, well,… rabbits, and at the market, they can fetch the equivalent of US$3 a rabbit. This might not sound like a lot, but Ntizihaboue says that the income she generates from her rabbit farming combined with selling a few vegetables that she grows in her garden has been enough to give her a certain amount of financial independence.
How does Gorilla Tourism and Conservation Help the Batwa?
Although many of the projects run by non-governmental organisations in Rwanda and other Virunga countries to help the Batwa communities are not directly tied in with conservation, they are often funded through gorilla safari tourism. Herbet Mfitundinda is from the Volcanoes Safaris Partnership Trust in Uganda, an offshoot NGO of the acclaimed Volcanoes Safaris. Herbert and his team explained how they too had set up basket making and weaving groups and adult education classes. As in Rwanda, many Ugandan Batwa had been left largely homeless and abandoned by the government when they were forcibly removed from their forest home to make way for Mgahinga Gorilla National Park and Bwindi Impenetrable Forest National Park.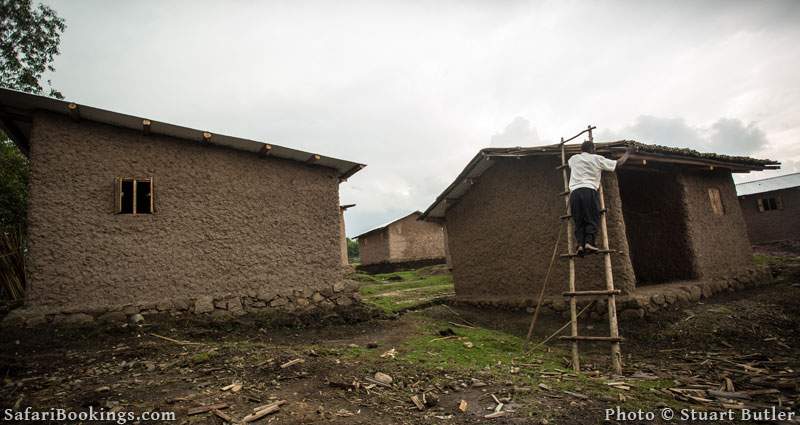 To help them, Volcanoes Safaris Partnership Trust came up with the ambitious and exciting project of building the Batwa proper houses on land that they could truly call their own. "It's thanks to gorilla tourism that we're able to fund projects such as these," Herbert explained. The large mud-walled houses with separate kitchens and bedrooms were certainly going to be a huge step up from the stick, wattle and plastic sheeting huts that the Batwa had spent so many years surviving in. When asked what he thought of the new houses, a young Batwa man answered, "I'm so excited. After more than twenty years, I will have a place to call home."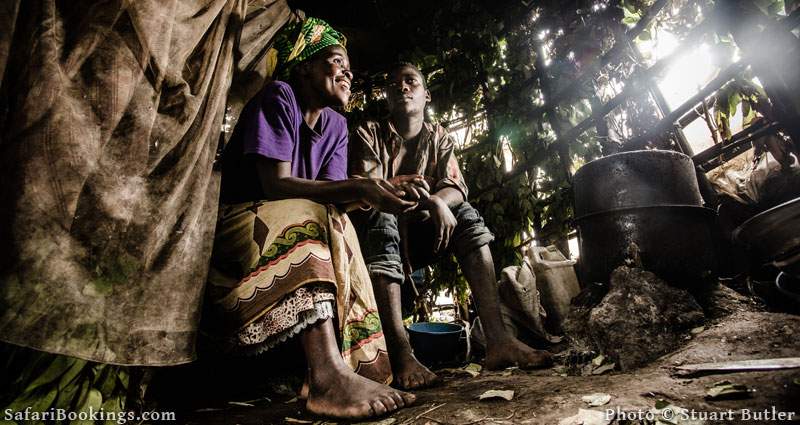 It would be quite easy to make the mistake of thinking that none of these non-governmental projects have any direct benefit to wildlife conservation activities in the Virungas. The reality is that it's in large part thanks to projects such as this that there is public support in Rwanda and Uganda for wildlife conservation. Again and again, I heard the same refrain that it's exactly this kind of giving back to local communities that has led to greater support for the national parks among the Batwa.
Back in his mud-walled house, Kanyetangi mused on the future, "I wouldn't go back to the forest now. We're happy living like this. We have access to schools and hospitals. Our children will have a better life than us. They're being educated and have health insurance. They will have chances we never had. It was a hard and even dangerous life in the forest. Animals could even have killed us. Now we live in society as part of a bigger community. All of this has happened because of tourists visiting the national park and the gorillas."
You can find a wide range of Rwandan safaris on SafariBookings.com.