Taking Better Safari Pictures
When I started working and travelling across various parts of Africa about seven years ago, it wasn't that common to see tourists armed with fancy SLR cameras and bazooka-like lenses. That was generally for the "pros". For the rest of us, it was simple point and shoots.
How things have changed. We have access to better and more user-friendly digital SLR cameras and equipment, at ever more affordable prices. And there are now any number of social media channels through which to share images with the short attention-spanned masses. As such, the number of us who fancy ourselves as "real" photographers has ballooned over the past few years. To turn up with a point and shoot on a game drive these days is to commit safari fashion suicide.
But there are still plenty of snooty folks out there in the "all the gear and no idea" category. However good or trendy your camera, it can only get you so far if you don't know what you're doing. So follow these tips for taking better safari pictures. You can begin to capture images that will look like they're straight out of National Geographic. Even if you stubbornly stick to your trusty point and shoot.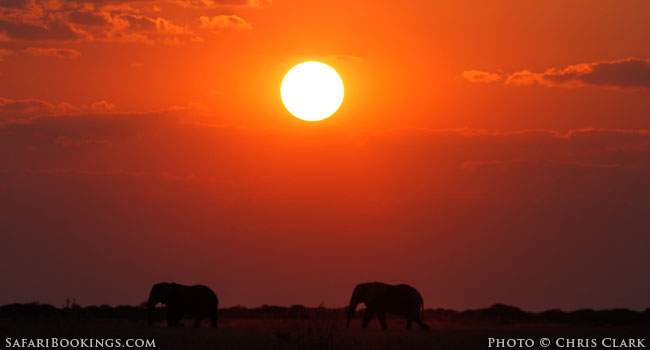 Light is everything
If you hang out with wildlife photographers, you'll notice they spend a lot of time harping on about the light. And not without good reason. Softer light generally makes for much richer and more detailed images. Early morning and late afternoon/evening are unanimously considered the best times for safari photography.
In the middle of the day, the light is much harsher. What this means is that your images will lose a lot of vibrancy and contrast. There is far too much white light. To some extent, post-production can help with adjusting this. But there's no substitute for the softer light, richer colours and contrasts you'll find earlier and later in the day.
Also worth noting is that harsher light generally goes hand in hand with hotter air temperature. And this means there is less active wildlife and, therefore, less interesting shots.
Another important consideration with regards to lighting is the angle of the sun. It's generally advisable to shoot with the sun behind you, as this gives more detail to your subject. If you shoot with the sun facing you, there will be too much glare, too many shadows, and lost detail.
The exception to this is when you shoot silhouettes at sunrise or sunset, when the light is nice and soft. For great silhouettes, you ideally want the sun low in the sky behind your subject and facing you. See the image above.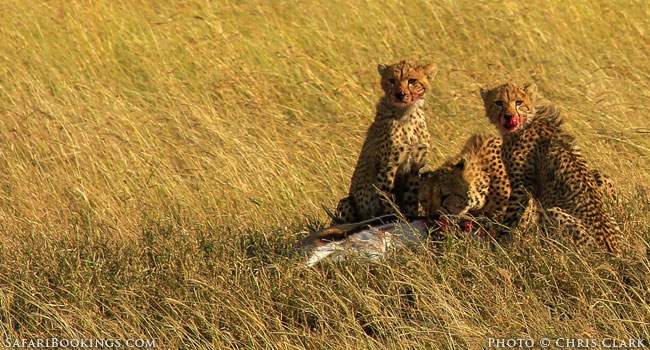 Composition and Perspective
Personally, I think it's boring to see pictures where the main subject(s) is always dead centre in the frame. It may seem like the most logical thing to do, but it's not very creative. A good place to start when it comes to being more thoughtful about your composition is the 'Rule of Thirds'. Now try to position your main subject off-centre in the foreground, as with the image above. This method can encourage more of a sense of depth, as well as interaction with the rest of the image. Especially if there are other points of interest or a pretty backdrop.
For landscape shots, 'Rule of Thirds' is just as useful for positioning your horizon or any features that stand out.
If you want to get more creative, it's also fun to play around with angle and perspective. Don't take all your shots from the same sitting position in your safari vehicle or at eye level. Mix it up.
When possible, get down in the dirt and take images from ground level and your subjects can become more imposing. Or you can add to your depth of field in landscape shots. Some national parks and game reserves have underground hides that make this lower perspective a little easier.
Or if you've got a tiltable screen, lift your camera above your head and try to shoot downwards.
Try a number of different perspectives and see what works for you.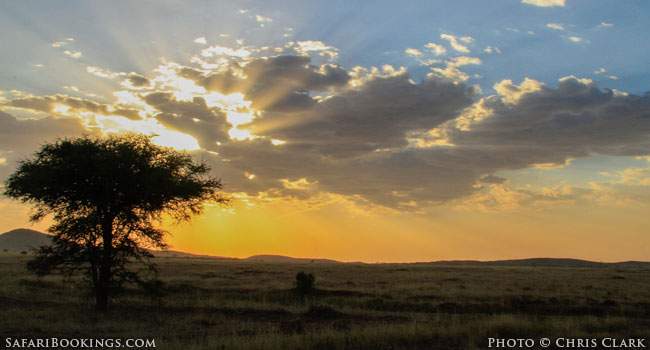 Location, location, location
If taking spectacular images is a priority for your safari, there are certain destinations that are a photographer's delight.
The vast open plains, savannah and acacia trees of the Serengeti always make for a truly iconic safari backdrop. And you're unlikely to find anywhere better in Africa for capturing big cats on the hunt.
For swimming elephants, staggering birdlife and beautiful, lush riverine surroundings Botswana's Chobe River and the Okovango Delta is spectacular.
Namibia's vast and arid Etosha National Park, with the moon-like expanse of the Etosha Pan at its heart, boasts particularly striking sunsets. And lots of rhino and the special experience of floodlit waterholes.
The Madikwe Game Reserve is fast developing a reputation as the best place in southern Africa to photograph leopard. And the endangered African wild dog. Meanwhile, a brand new underwater hide at Jaci's Tree Lodge allows for a particularly unique photographic perspective.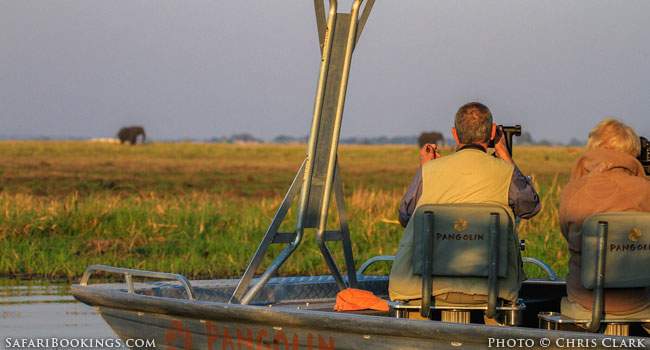 Go with the pros
It certainly doesn't help if your guide is clueless about photography and keeps parking where the sun is glaring.
But a number of operators appreciate the market for specialized photographic safaris and provide guides who are themselves experienced photographers. Taking better safari pictures is a process and they will help you get the best shots.
To my knowledge, perhaps the most impressive of the bunch is Pangolin Photo Safaris, who operate in the Chobe and also now in Madikwe. These seasoned photographic guides offer a range of customized photographic vehicles (including a retro Land Rover and a Unimog) . They also have photographic boats with fully rotating chairs and mounts to keep your camera steady.
Another of my personal favourites to go shooting with is Peter Geraerdts, a half-mad Dutch photographer who offers specialized photographic safaris in Zambia's action-packed South Luangwa. He imparts his extensive knowledge and creative flair whilst driving you around. In an old school Land Cruiser equipped with moveable camera mounts.
The number of similar operators is growing steadily. If taking better safari pictures is important to you, then these are the go-to pros that you should seek out.
One picture is worth ten thousand words
Or so the proverb goes. We hope you've found these tips helpful. Taking better safari pictures doesn't seem so daunting, after all. Do check out our SafariBookings' collection of stunning African wildlife photography on Instagram and Pinterest.