African Safari Expedition
Teddy Roosevelt's African expedition (1908-10) redefined the African safari expedition and put the continent on the tourist map. His celebrity pulling power helped create an industry that has helped sustain Africa's wildlife ever since.
Theodore Roosevelt was only 50 when he chose to forego a second term of office in 1908 in favour of the world's most lavish collecting expedition to Africa. As Teddy himself had once put it "I am fond of politics, but I am fonder still of a little big game-hunting."
Funding the adventure
He was an incredibly active man with a great love of the outdoors. It was, as they say, a no brainer! A quick conversation with the Smithsonian, who put $50,000 into the pot, another with millionaire philanthropist, Andrew Carnegie, who added another $25,000 and he was all set to go – and with the perfect excuse to set about shooting everything in sight – all in the name of science! The strange relationship between hunting, conservation, tourism and politics is never more sharply in focus – and perhaps could be said to have been invented – by Teddy Roosevelt's East African safari.
All in the name of science
It was an epic adventure that lasted nearly a year, from 21 April, 1909, to 14 March, 1910, and took him and his 21-year-old son, Kermit (the expedition photographer), from Mombasa north along the Nile to Khartoum and west, deep into the heart of the Belgian Congo. It also resulted in the slaughter of 11,397 carefully catalogued animals including 512 big game species (including 9 elephant and 9 white rhino), 4,000 birds and 500 fishes. They believed in being inclusive and killed everything from elephants to dung beetles, although obviously big-game hunting proved more entertaining.
So many specimens were shipped back to the Smithsonian by the over-enthusiastic party that some of the boxes have not been opened to this day and now only the white rhino remains on display! Roosevelt described it as "the most noteworthy collection of animals that has ever come out of Africa." Nor did he personally see any difficulty squaring the circle about killing animals to conserve (or preserve) them. A few years previously he had said:
"In a civilized and cultivated country wild animals only continue to exist at all when preserved by sportsmen. The excellent people who protest against all hunting, and consider sportsmen as enemies of wild life, are ignorant of the fact that in reality the genuine sportsman is by all odds the most important factor in keeping the larger and more valuable wild creatures from total extermination." It's a view that remains popular if controversial amongst many today!
At the tail end of the great age of exploration, quite simply, romantic action man, Teddy, the hunting conservationist who inspired the creation of the Teddy bear, simply wanted a piece of the action!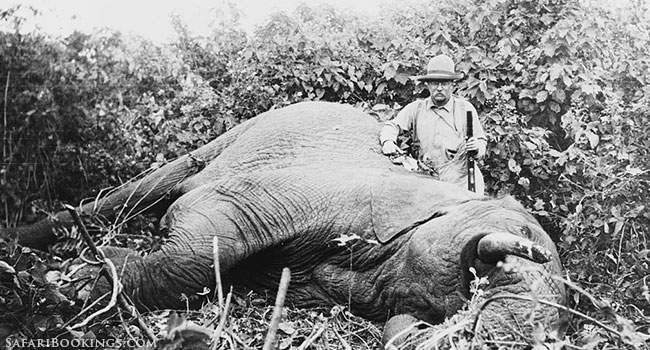 The team
The Roosevelts didn't travel alone. With them went two representatives from the Smithsonian, Major Edgar A. Mearns (1856-1916), a retired Army surgeon and field naturalist, as head naturalist and bird-collector, and J. Alden Loring (1871-1947) and Edmund Heller (1898-1918), both zoologists, who prepared the animals for the museum.
Wildlife photographer and filmmaker, Cherry Keaton, came too, producing a silent feature,  "Roosevelt in Africa." Famous big game hunters, R.J. Cuninghame and Leslie Tarlton, were in charge of supplying and leading the African safari expedition, supported by 250 guides/porters. They were also joined from time to time by legendary hunter and guide, Frederick Courteney Selous. This was no small outfit.
Travelling in style
Where possible, the party travelled by train and steamboat (and sometimes horse or camel). And like some royal progress, much time was spent in a series of highly entertaining social engagements with local 'aristocracy'. Even once out in the bush, life was still civilized. Amongst the various items portered across Africa was a reinforced trunk containing the President's Pigskin Library. This was a collection of 59 classic books bound in pig's leather. It included such essentials as Paradise Lost and Vanity Fair.
The President's double-barrel .500/450 Nitro Express Holland & Holland rifle was custom-made for him and presented as a gift by 55 English naturalists and sportsmen 'in recognition of his service on behalf of the preservation of species'. The column of porters would sometime stretch out for over a mile. Each porter carried a 66lb load, while the Stars and Stripes tented camp had the appearance of an army post.
Celebrity and posterity
The repercussions of this African safari expedition have reverberated down the ages. The portly President, nicknamed Bwana Tumbo (Boss Big Belly) by the local Swahili press, turned journalist himself. He was paid $50,000 by Scribner to write a string of articles compiled into a book, African Game Trails (1910). This helped fund his share of the expedition costs. But wherever he went, a string of other journalists inevitably followed.
The result of which was that Africa, big game hunting and safaris were also put on the map. Roosevelt's Progress marks the real start of the African tourist trade and the glamorous glory days of the high-spending safari. The massacre of the local wildlife didn't go unnoticed either. With the rise in big game hunting  (and Teddy's previous involvement in conservation) first conversations about African wildlife preservation began. Even back in 1909, the presence of a celebrity could change the world.
Book an African Safari
Are you interested in embarking on your very own African safari? If so, please contact us. For more interesting safari history stories like this one, check out the SafariBookings blog.