How to ensure an unique African Safari experience
Your first African safari – or second, or third – can be a life-changing experience. Coming from media-dominated Europe or North America, the remote and untrammeled African bush possesses a thrillingly timeless and offline quality. Nothing personifies this more perhaps than the larger-than-life presence of the awesome Big Five: lion, leopard, buffalo, elephant and rhinoceros. But a holistic safari package might also embrace everything from encounters with the continent's diverse people to goggling at its colorful birds and inspirational night skies. These are SafariBookings' top ten tips for transforming your trip into a truly immersive all-round experience.
Take a Walking Safari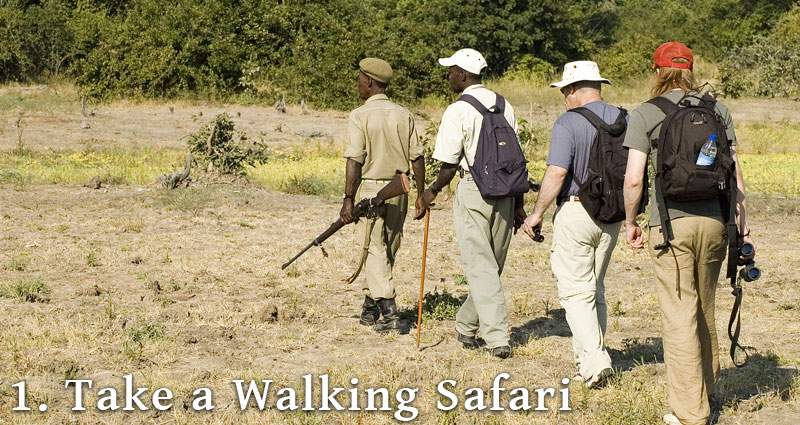 (Picture credits Vibe photography - Picture credits to SafariBookings.com)
Take a walking safari. Not every African safari destination offers guided walks, but where they are available, seize the opportunity. Walking in the bush is a far more involving experience than a game drive. It lends a definite edge to any wildlife encounter, allowing you to be far more conscious of the sounds, smells and textures of the African bush (such as animal tracks and spider webs).
Carry binoculars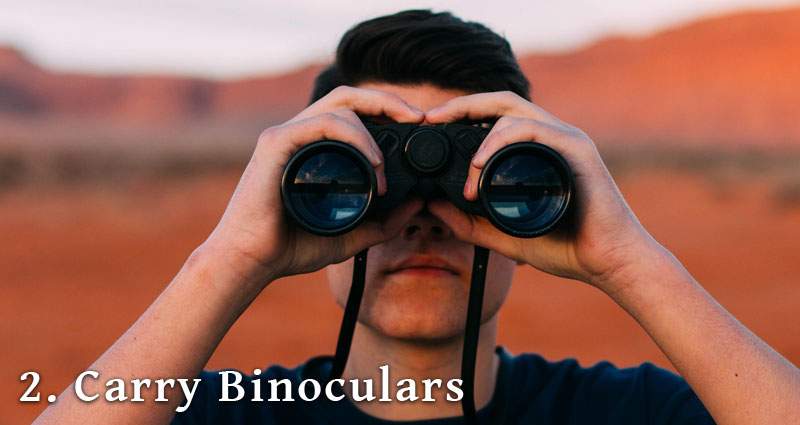 (Picture credits to Evan Kirby via Unsplash)
Carry binoculars. Binoculars give intimate views of distant wildlife and the dazzling array of rollers, parrots, bee-eaters and other colorful birds that inhabit most African safari destinations. Looking at the pristine night sky through even the most basic binoculars can also be a genuine revelation, revealing thousands of stars invisible to the naked eye.
Meet the locals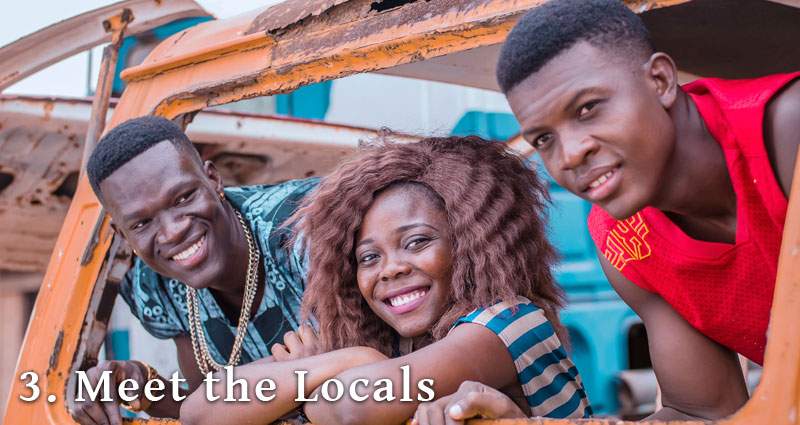 (Picture credits to Nathaniel Tetteh via Unsplash)
Those wildlife lodges and camps set in Masai, Himba, Samburu and other traditional areas usually offer formal community visits to their clients. But bear in mind that for a less stereotyped take on 21st century Africa, it can be just as revealing to chat informally to waiters, guides and other lodge staff.
Dress the part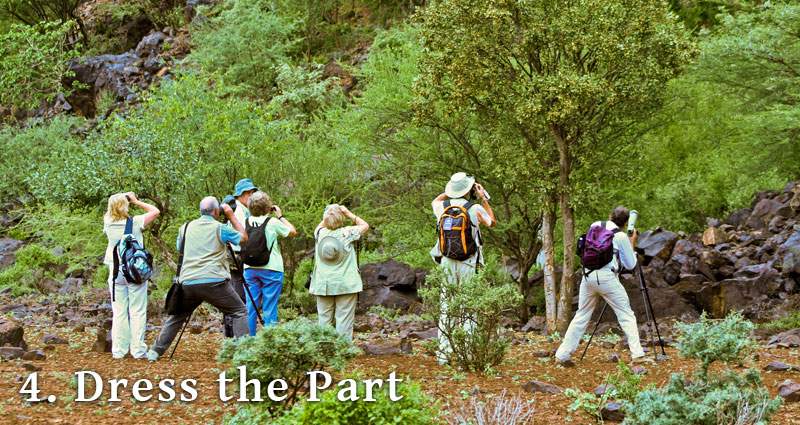 ('Baringo, Kenya - A group of adults from the UK birding with binoculars and telescopes, looking towards the Rift Valley Cliffs behind Lake Baringo.')
Dress the part. No need to spend a fortune on a clichéd all-khaki African safari uniform. But try to dress sensibly – plenty of muted colors, light and easily washed materials and something to cover up with on those (often surprisingly chilly) evenings around the fire. A good hat and sunscreen to avoid burning up on long game drives is also sensible.
Set aside the camera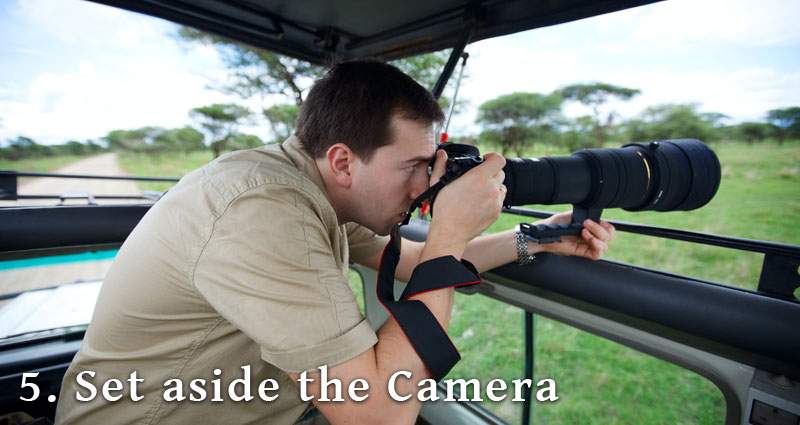 (Picture credits Adam Hollin via Unsplash)
Set aside the camera. For many, a camera is probably the single most important African safari accessory. It would indeed be a shame to return home without having captured your best sightings for posterity. All the same, resist the temptation to treat your safari as one long photo-shoot, and you might find yourself relaxing more, and allowing the experience to imprint on your memory as well as the camera.
Be a fly-on-the-wall at a local market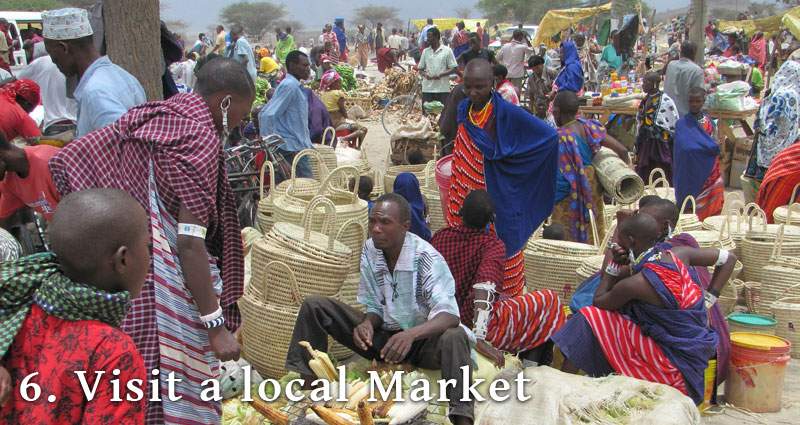 (Picture credits R. Gort via Pixabay)
Be a fly-on-the-wall at a local market. The colorful weekly markets held in most African villages remain the lifeblood of the local culture and economy. Subsistence farmers walk or cycle in from miles around to sell fresh produce, and to buy manufactured goods such as soap, candles and clothes. They also meet up with family and friends, and catch up on all the latest news and gossip.
Get up early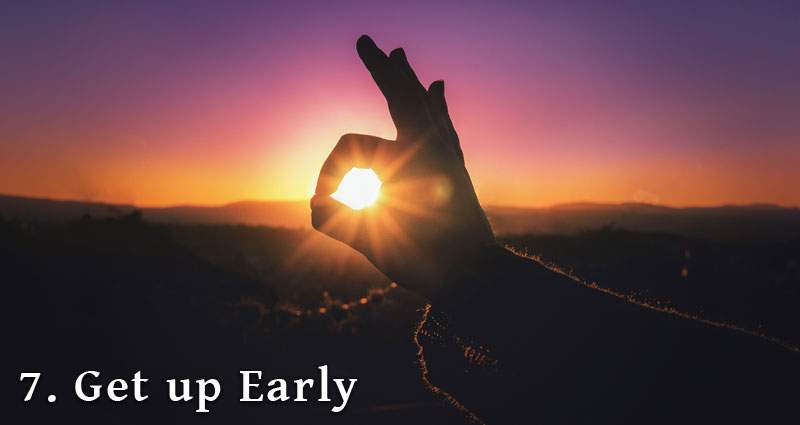 (Image via Pexels)
Adapt to a new daily routine. Most predator, bird and other wildlife activity peaks during the hour after sunrise and the hour before sunset. For this reason, it's conventional to start the safari day with a pre-dawn coffee, then head out on an early morning game drive. You will then return to camp for a leisurely brunch or early lunch and an afternoon siesta, before heading back out into the bush in the late afternoon.
Don't obsess on the Big Five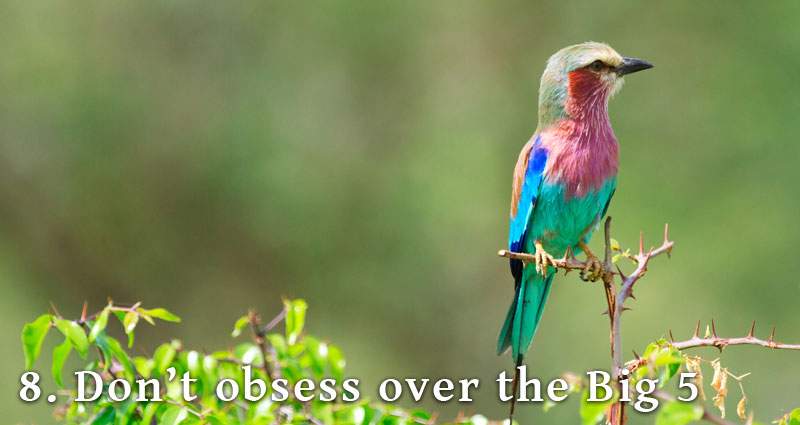 (Photo by Shalamov - Picture credits to SafariBookings.com)
Don't obsess on the big five. There's so much more to an African safari than chasing around in search of the fabled quintet. Enjoy every wildlife sighting and encounter on its own terms, and take the attitude that whatever you spot this time is a great pretext for another safari a year or two down the line. Or challenge yourself trying to locate the more elusive Little Five!
Sample the local cuisine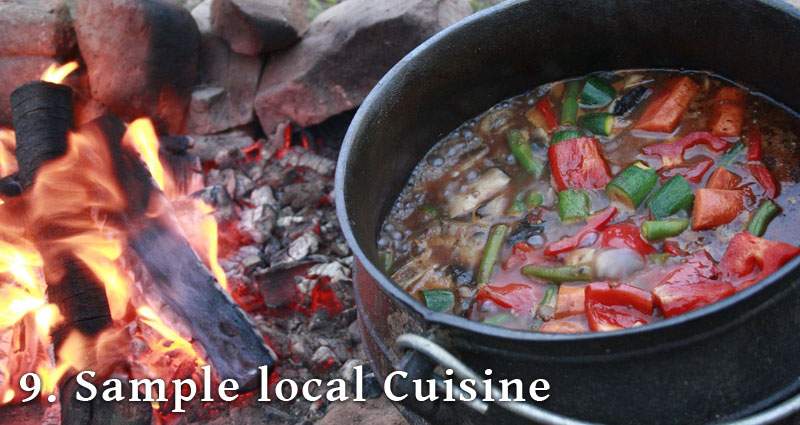 (South African Potjie, Picture credits via Pixabay)
Africa isn't quite up with Asia when it comes to world cuisines, but it has plenty to offer foodies. Chow down on clove- and cinnamon-infused pilau of the coastal Swahili; the Malay-influenced curries and bobotie of the Western Cape; deep-fried donut-like mandazi and koeksisters; and flame-grilled meat known as braaivleis in southern and nyama choma in eastern Africa.
Respect the wildlife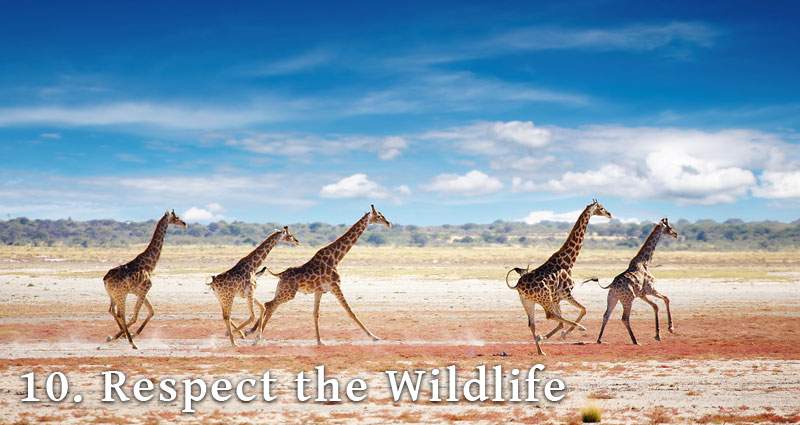 (Photo by DmitryP - Etosha National Park, Picture credits to SafariBookings.com)
In most African safari reserves, animals are very habituated to vehicles. That doesn't mean they're tame. The lions that laze in front of your jeep might well attack anybody fool enough to disembark in their presence, while the likes of elephant, hippo, rhino and buffalo will bulldoze any pedestrian they perceive as a threat. Never approach wildlife on foot except in the company of a trustworthy local guide.
Want a true taste of Africa? Visit our site!
If you want to find the perfect Safari holiday, don't forget to visit our site! Find detailed information on the best Safari countries, parks, tour operators and much, much more.