Nairobi is a city that lives and breathes wildlife, from the carved wooden hippos and lions for sale in every tourist handicraft shop to the real-life versions haunting the wildlife reserves near Nairobi. Kenya makes a superb base for day or overnight excursions to a diverse array of safari parks.
Overlooking the city are Hemmingway's Green Hills of Africa where all the Big Five bar elephants can be found. Just a few hours further away are forest-cloaked volcanoes, flamingo-filled lakes and shady gorges bustling with baboons. It's little wonder Nairobi is the safari capital of East Africa.
1. Nairobi National Park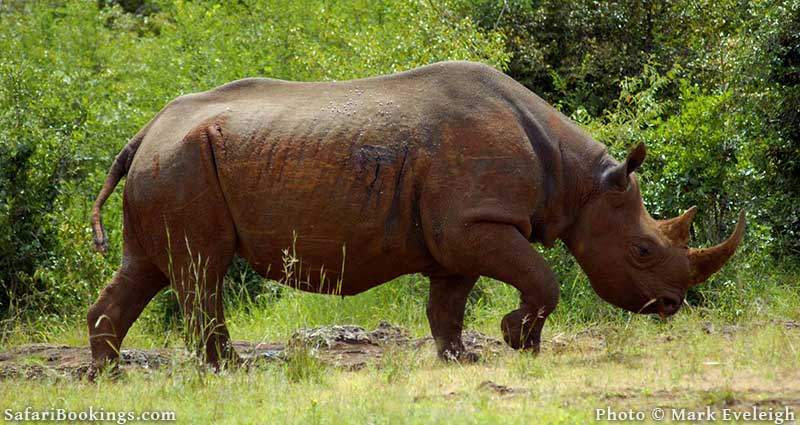 No other capital city on Earth can boast of having a fully-fledged national park complete with lions, cheetahs and rhinos with a backdrop of city center tower blocks. This one-of-a-kind park is a gorgeous 117km2/45mi2 stretch of hilly grasslands and patches of mixed woodland that surprises everyone with its abundance of life. In fact, if you want to see rhinos then Nairobi National Park is actually one of the best safari parks in East Africa with healthy populations of lions, cheetahs and hyenas, so you've a very good chance of spying some predators. There's also solid populations of buffalos, impalas and wildebeest. One thing the park doesn't have (and never had) is elephants. Nairobi National Park is the obvious choice for someone with only half-a-day or so to visit a safari park near Nairobi, and it's also a very rewarding park to visit as part of a longer Kenyan safari.
Distance from Nairobi: 10km/6mi (around 20–45 minutes) from central Nairobi but instant access if staying near the park gates
Accommodation: Wide number of city center or airport hotels from which access is easy or, for a more genuine bush experience, try the Nairobi Tented Camp which is the only camp actually within the park
Activities: Game drives, safari boardwalk, animal orphanage
51 Nairobi National Park Tours
2. Hells Gate National Park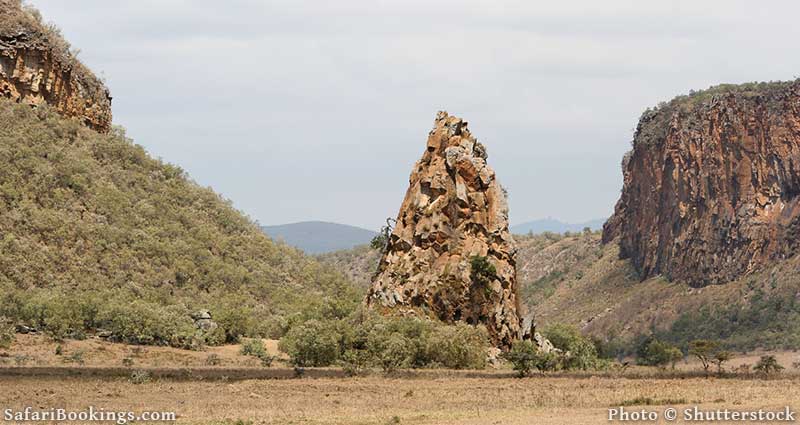 Pinnacles of honey-toned rock reach toward the sky, deep gorges shatter the landscape and sun-bleached savannah grasslands bustle with dark striped zebra, huge troops of baboon and curious giraffe. Hells Gate National Park is an excellent overnight excursion from Nairobi. The park has plenty of plains wildlife but very few predators or other dangerous animals. It is also unusual among Kenyan national parks in that you can walk or cycle at will throughout the park. If peddling frantically past a group of moody buffalos isn't exciting enough then Hells Gate has some superb rock-climbing opportunities. All up, this is an ideal place for an on-foot African safari near Nairobi. Weekends, however, can be busy with people fleeing Nairobi.
Distance from Nairobi: 125km/77mi (around 2½ hours if the traffic is good)
Accommodation: Nearby Lake Naivasha has plenty of good quality shore-side accommodation, including the colonial-period Elsamere Lodge, which is the former home of Joy Adamson (conservationist, artist and author)
Activities: Cycling, walking, rock climbing; nearby Lake Naivasha offers boat safaris and exceptional bird watching
61 Hell's Gate National Park Tours
3. Mt Longonot National Park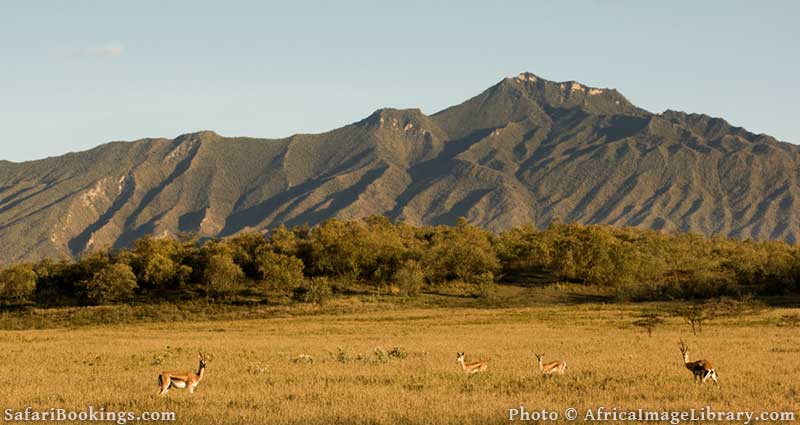 As you drive west out of Nairobi the ever-sprawling fingers of the city slowly give way to cool, muddy, green agricultural land and patches of forest. And then, quite suddenly, the land tumbles steeply downwards to the searing hot, dry floor of the Great Rift Valley, pockmarked with great, dimple-like volcanic craters and sun-sparkled lakes. It's the kind of view that makes people fall in love with Africa. The most visible of these volcanoes is giant Mt Longonot (2,776m/9,107ft). Today this dormant volcano is a little visited national park that makes for a perfect 'away from it all' escape from Nairobi. This isn't a park offering a classic safari experience. Instead, Longonot is all about hiking. The steep volcanic slopes are carpeted in a thick forest (birds and monkeys are common) and a sharply ascending trail wends upwards to the crater summit and rewards with astonishing views both down into the huge 'Lost World' crater itself and – a thousand meters below – the bleached grass plains.
Distance from Nairobi: 83km/51mi (around 2–2½ hours if the traffic is good)
Accommodation: There's a basic campsite at the park entrance, or lots of options at nearby Lake Naivasha
Mt Longonot National Park Tours
4. Lake Nakuru National Park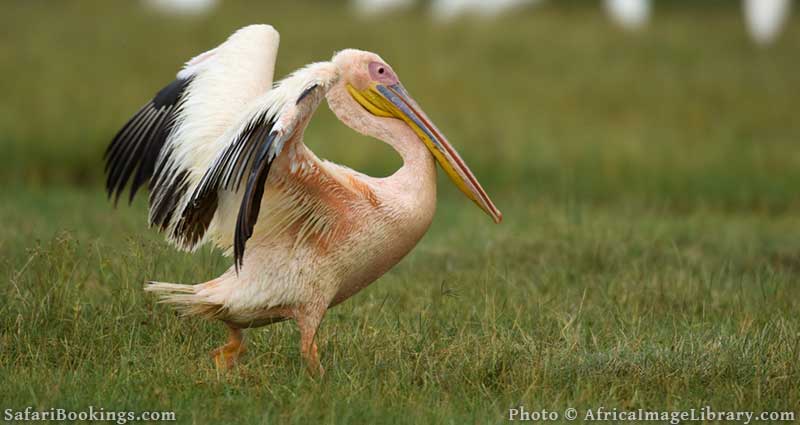 Lake Nakuru National Park is like the twin sister of Nairobi National Park. Sitting right on the doorstep of the fast-growing city of Nakuru, this popular and very rewarding park packs a lot of glam into a relatively small 180km2/69mi2. This is excellent rhino country and visitors are almost guaranteed to see both black and white rhinos as well as hippos, baboons (lots and lots of baboons!) and, if you're really lucky, lions, which are locally famed for their tree-climbing skills. However, aside from the rhinos the real stars of the park are the flamingos. When conditions are just right tens of thousands of these enchanting birds cover the surface of the lake. Even if they're not in residence there are always massive numbers of pelicans and plenty of other avian life.
Distance from Nairobi: 180km/111mi (around 3½ hours)
Accommodation: Nakuru city has accommodation to suit all budgets and most people base themselves in town when visiting the park; if you prefer to stay within the park itself then there are several upmarket and expensive choices
Activities: Within the park all safaris are conducted by vehicle. Around Nakuru are a number of other interesting sights, including the Hyrax hill Prehistoric Site and the Menengai Crater, an impressive volcanic crater that can be climbed.
939 Lake Nakuru National Park Tours
5. Lewa Wildlife Conservancy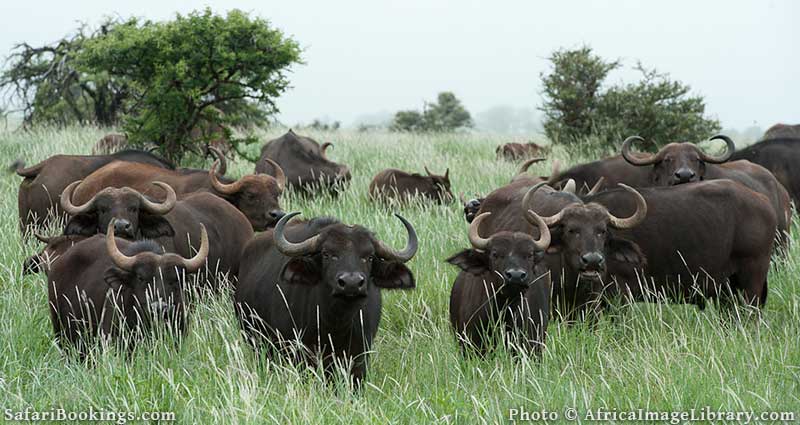 This park is somewhat further afield than any of the others included here (a minimum of two days is needed to make a visit worthwhile but longer would be better). However, the world-renowned Lewa Wildlife Conservancy is everything you hoped East Africa might be. A backdrop of Mt Kenya, the classic, savannah grasslands and clumps of fever trees make a scenically stunning park that is home to so much wildlife it's like a vision of Eden. All the Big Five are present, including lots of rhinos and elephants (attention: the elephants in this part of Kenya have a well-founded reputation for aggression) and easy to find lions and buffalos and some leopards. The reserve is also a great place to see cheetahs. But the good news doesn't end here. Lewa has some of the best wildlife guides in Africa, dreamy safari lodges and an air of absolute exclusivity. Best of all, Lewa is at the forefront of community conservation projects in Africa, so you can be sure that every dollar you spend will go towards progressive conservation policies and community development. Of all the wildlife reserves near Nairobi, Lewa offers the stand-out African safari experience.
Distance from Nairobi: 250km/155mi (around 4½ hours); daily flights from Nairobi straight to Lewa are also available
Accommodation: There are nine camps and lodges within Lewa – all are gorgeous, and all are expensive
Activities: Vehicle jeep safaris are the main activity but it's also possible to do some thrilling bush walks where encounters with large mammals are common